Electric vehicle (EV) benefits and savings
With more and more EVs hitting the road every day, SRP is a proud provider of the fuel of the future. We offer resources, rebates and more to support drivers who are ready to make the switch.
Reducing carbon emissions, one EV at a time
EVs have zero tailpipe emissions, which means they don't give off the harmful gases that contribute to global warming.
SRP is working to support the enablement of 500,000 EVs in our service territory, while managing 90% of the EV charging load, by 2035. As we evolve the power grid to support EV charging on a larger scale, we're building an active community of EV owners who can guide our efforts by sharing their wants and needs. Join the community.
Making the switch to an EV
Thinking of going electric? There are many benefits to buying an EV – cheaper "fuel," less maintenance and access to the HOV lane, to name just a few.
If you're still on the fence, you can use our handy calculator to see your full savings potential. Calculate your savings.
Charge at home at your convenience
After deciding which EV is right for you
, the next step is finding the right at-home charging station.
Choose your voltage
Your EV dealer can tell you what type of charging station your car requires.
Types of at-home EV charging stations
Level 1 (120 volts)
Level 2 (240 volts)

Most EVs come with this charger
Uses a standard 120-volt wall outlet
Doesn't require changes to your electric panels or home wiring
Most plug-in hybrid EVs take 4–6 hours to fully charge
Battery EVs take 12–24 hours to fully charge
What to tell your licensed electrician: "I need to make sure my home has either a 15- or 20-amp single-pole circuit breaker."

An upgrade from standard-issue chargers
Uses a standard 240-volt wall outlet
Cuts battery EV charging time down to 4–8 hours
Most likely requires a new, dedicated circuit from the electric panel to a wall near your EV parking spot
What to tell your licensed electrician: "I need to make sure my home has a two-pole 30- to 80-amp electrical circuit breaker panel."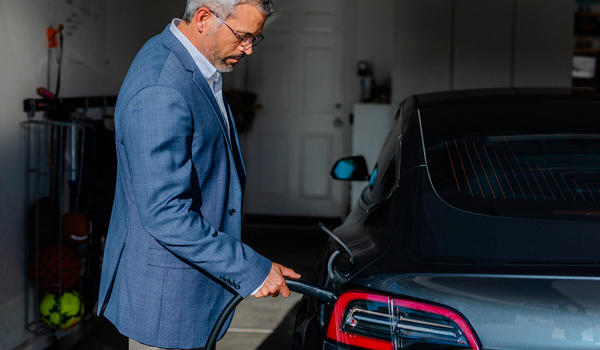 Plug into SRP rebates
Did you know that SRP customers can save $250 on a Level 2 smart charger by shopping SRP Marketplace? Browse our selection of discounted chargers today. SRP also offers rebates for eligible chargers purchased elsewhere.
Get an EV charger rebate.
Get the right price plan
We offer a special price plan for EV drivers. The Electric Vehicle (EV) Price Plan is a time-of-use price plan that is designed to help EV owners save.
In fact, daily charging costs on the EV Price Plan can be as low as $.70.*
This plan may be a good fit for you if you can commit to 1) using less energy during on-peak hours (when energy is more costly) and 2) charging your vehicle at home between 11 p.m. and 5 a.m.
Sign up today or contact SRP at (602) 236-8888(602) 236-8888 for more info.
Install your charging station
We recommend hiring a licensed electrician to install your charger. Here are some questions to ask your electrician:
"Do you have experience installing home EV chargers?"
Even the most experienced electricians may not be familiar with the specific requirements of EV charging stations.
"Who can help install my home EV charger?"
Qmerit is SRP's official EV home charging installation partner. Qmerit makes home charging easy with safe, hassle-free installation services. Get expert charger installation with Qmerit.
"Do I need to upgrade my electrical panel?"
EV chargers require a dedicated circuit. If you don't have an available circuit, you may need to install a sub-panel.
"Will I need ventilation?"
If your electric vehicle supply equipment is suitable for indoor charging, it will be labeled as such. In all other cases, permanent mechanical ventilation to intake and vent directly to the outdoors is required.
"Does my city require permitting and inspections? If so, will you (the electrician) submit the necessary permits and oversee the inspections?"
Not all electrical work or installations require permits and inspections. Determine what will be required and how the electrician can help with this process.
Note that permitting and inspection requirements may vary depending on where you live. Check with your municipality for more information. SRP has worked with local cities to create an EV installation plan
to help simplify the permitting process.

Powering your EV journey
Our grid powers your ride, and we want to ensure it's ready for the increasing number of EVs expected to connect in the years ahead.
A reliable grid paves the way
Currently, there are more than 27,000 electric vehicles in SRP's service territory – we expect that number to grow to 500,000 by 2035. Will our grid be able to handle that increase in demand?
With the right management, yes.
That's why SRP has set goals to ensure our grid is reliable, efficient and secure – so that you, and many others, can invest in an EV with confidence. See our 2035 goals.
Find a quick charge around town
We're excited that more and more SRP customers are choosing EVs and we want to offer our support.
SRP is partnering with EVgo and Electrify America to sponsor public charging stations around the Valley. These stations will provide fast charging – think minutes, not hours.
Find charging stations on the go. Download the PlugShare app.
FAQ
Still have questions about EV benefits and savings? We've got answers.
*Results may vary. Assumptions: Level 1 charging average of 10.5 kilowatt-hours (kWh) per day for an average of 30 miles driven. Vehicle charging occurs between the hours of 10 p.m. and 5 a.m. Prices reflective of the summer season (May–October). Calculations do not include costs associated with daily house loads, monthly service charge and taxes. Price comparison for Basic (E-23) is based on the typical customer use profile.