Average Demand Price Plan for solar customers
This plan is ideal for customers who produce some of their own energy with rooftop solar or other distributed generation technologies and are able to shift energy use from on-peak to off-peak hours.
How it works
You've got potential to save on the Average Demand Price Plan if you can limit your household demand for energy during on-peak hours.

To do this, make sure that major appliances, such as the dishwasher, clothes washer or dryer, don't run at the same time and never during on-peak hours.

On-peak hours are weekdays from 2–8 p.m. May through October and weekdays from 5–9 a.m. and 5–9 p.m. November through April. All other times, including weekends and six holidays
, are off-peak.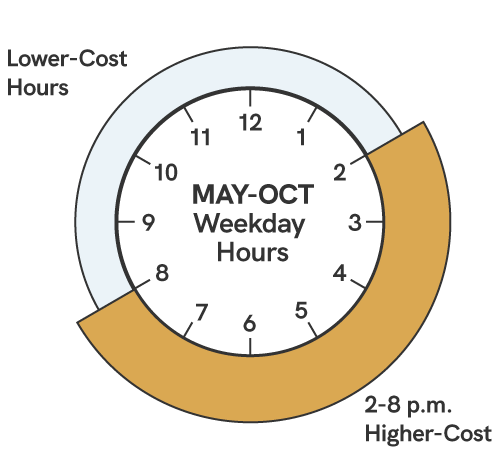 This plan may be right for you if:
You have routine on-peak demand of 10 kW or higher.
You have big variations in your demand – meaning, for example, you typically have a demand of 5 kW, but once or twice a month your demand reaches 10 kW or more.
You don't want to worry about unexpected spikes in demand.
Pricing
On this plan, your bill is calculated based on three charges:
Energy charge – The amount of power you consume over time. It's measured in kilowatt-hours (kWh), and the price varies based on whether electricity is used during on- or off-peak hours.
Monthly service charge – This helps cover the costs of grid access and maintenance. Most customers on this price plan will pay a monthly service charge of $32.44.
Average demand charge – Measured in kilowatts (kW), demand is the amount of power your home uses at any one time. The average demand charge is based on the average of your daily on-peak maximum demand for the billing month.
A single day's on-peak maximum is based on the 30-minute interval during on-peak hours when your home used the most electricity.

Intervals are measured between the hour and half-hour during on-peak hours (for example, between 2 and 2:30 p.m. and 2:30 p.m. and 3 p.m., etc.)
Ready to change your price plan?
Think the Average Demand Price Plan would be a good fit for your household and lifestyle? Call (602) 236-4448(602) 236-4448. We're here to help Monday through Friday between 7 a.m. and 7 p.m.

For more information, see the Average Demand Price Plan sheet
.