How to save on time-of-day price plans
Learn about peak hours and see how you can save money by using energy at the right time of day with our Time-of-Use, EZ-3 and Electric Vehicle price plans.
What are time-of-day price plans?
At certain times of the day, many people and businesses in the Valley are using energy, which puts pressure on the power grid. SRP's time-of-day plans offer price breaks for customers who can shift energy use outside of those high-demand, or "peak," hours. That's a win for the power grid and your wallet.
SRP offers multiple time-of-day price plans, so you can create a schedule that works for you and lowers your energy costs.
How it works
Save money when you shift your energy use outside of peak hours, Monday through Friday. You'll get lower energy prices during off-peak hours, plus weekends and holidays
, all year long.
Price plan
Peak hours (weekdays)
EZ-3
3 to 6 p.m. or 4 to 7 p.m.
Time-of-use
2 to 8 p.m. (May to October)
5 to 9 a.m. and 5 to 9 p.m. (November to April)
Electric Vehicle
2 to 8 p.m. (May to October)
5 to 9 a.m. and 5 to 9 p.m. (November to April)
Charge your EV at super off-peak hours and save even more (11 p.m. to 5 a.m.).
To see what plan you're on, check your bill or visit SRP My Account™. You can also switch to a time-of-day plan by visiting My Account.
Off-peak holidays
If you are on an SRP Time-of-Day price plan — EZ-3, Time-of-Use, Electric Vehicle, Daytime Saver Pilot, Residential Demand Pilot or Customer Generation — you will enjoy off-peak pricing on the following 2023 holidays:
New Year's Day, Jan. 1 (As the holiday is on a Sunday, off-peak hours will also include Monday, Jan. 2)
Memorial Day, May 29
Independence Day, July 4
Labor Day, Sept. 4
Thanksgiving Day, Nov. 23
Christmas Day, Dec. 25
Easiest way to save: Precool before peak hours
Nearly half of the energy used in your home goes to heating and cooling.* To save big, install a programmable or smart thermostat and precool your home before peak hours begin.
Three hours before peak hours begin, set the thermostat to three degrees below your preferred temperature.
When peak hours begin, set the thermostat to three degrees above your preferred temperature to keep the air conditioner from running too much.
When peak hours end, set the thermostat back to your preferred setting.
Some homes may require more time to precool/return to preferred settings. Adjust the temperature and timing based on your home's size, age and building materials and your comfort level. Some smart thermostats learn your schedule and are programmed automatically. You may need to turn off this feature to precool.
Install a smart thermostat to make precooling easy
With a smart thermostat, you can set a schedule to adjust the temperature automatically. You can also adjust the temperature anytime, from anywhere, using your smartphone.
Save on a smart thermostat when you shop the SRP Marketplace
. (Be on the lookout for sales and rebate offers throughout the year!)
More ways to save energy during peak hours
Save on your time-of-day plan by shifting what time of the day you use major appliances. Plan to use these appliances during off-peak hours:
Pool Pump
Install a timer for your pump. Run the pump just long enough to keep the water clean.
Oven
Avoid using the oven to keep the kitchen cool. Grill outside or use the microwave instead.
Dishwasher
Use the "energy saving" setting to save on energy costs.
Washing Machine
Only use your washer and dryer during off-peak hours. Be sure to use cooler temperature settings.
Water Heater
Install a timer for your water heater to keep it from running during on-peak hours.
Electric Vehicle
Charge only during the super off-peak hours of 11 p.m. to 5 a.m.
Air Conditioner
Precool your home before peak hours start to decrease demand during high-cost times.
Delayed Start Button
If your appliances have a delayed start feature, you can easily run them when peak hours end.
Most computers use a lot less energy than other major appliances, so if you're worried about computer usage influencing your TOD savings, don't be. You can still save on a TOD price plan when working from home.
Find out how much energy you use during peak hours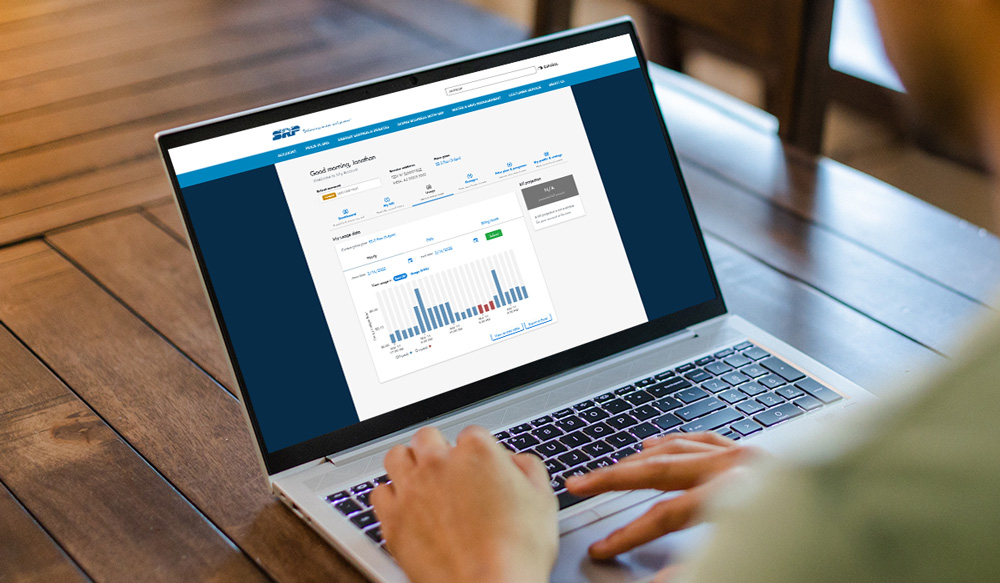 Visit My Account
Log in to My Account and view your hourly usage chart to see when your home uses the most energy.
Visit My Account.
Download the SRP Power App™
See your daily energy usage and cost using the SRP Power app.
Download the app.
Change your price plan anytime
SRP offers many different price plans, so you can choose one that fits your lifestyle and budget. If a time-of-day price plan isn't paying off, you can change it at any time. Compare price plans.