SRP Daytime Saver™ Pilot
You could save hundreds on your energy bills each year when you use the cleanest, most affordable energy during super off-peak hours. 
How it works
SRP's Daytime Saver Pilot allows customers to access cleaner, more affordable energy when they shift their electricity use to super off-peak hours — between 9 a.m. and 3 p.m. every day.
How to save money on this price plan
To see the most savings on this plan, you'll want to shift as much of your energy use as possible to super off-peak hours. Also, try to limit your energy use during on-peak times when higher charges apply.
Air conditioning
To maximize comfort and savings, we recommend that you precool your home for three hours (from 3–6 p.m.) by setting your thermostat 3 degrees cooler than your typical setting. During on-peak hours (6-9 p.m.), adjust your thermostat 2-3 degrees hotter than your typical setting. During super off-peak periods, you can set your thermostat to whatever temperature you are comfortable with.
Electric Vehicles
To maximize your savings, charge your electric vehicle(s) during super off-peak periods. If you need to charge your vehicle outside of super off-peak periods, try to avoid on-peak times.
Other appliances
Shift as much of your energy use to super off-peak and off-peak periods. To maximize your savings, appliances that use more energy should be shifted to super off-peak periods, including: washing machine/dryer, pool/spa, dishwasher.
How to read your bill
The SRP Daytime Saver Pilot bill contains the following sections and information.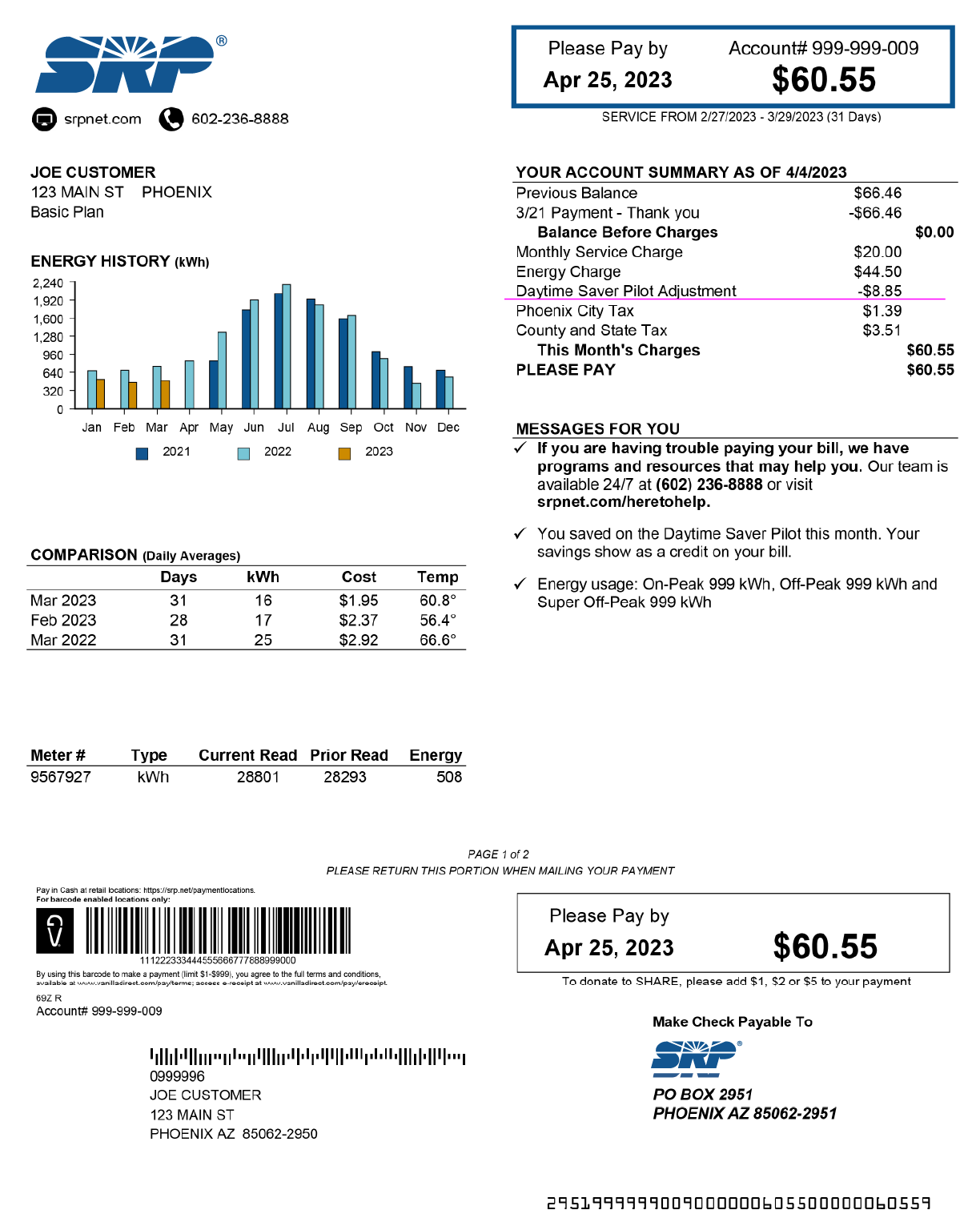 If you have questions, please call us at the telephone number listed here on your electric bill.
---

Your service period, in addition to the due date, the amount you currently owe and your account number. You can keep the top part of the bill for your records.
---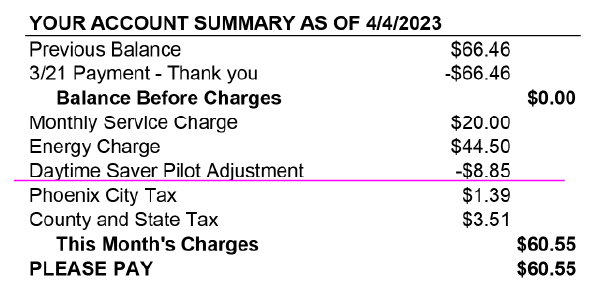 The charges for the current month, including any Daytime Saver Pilot savings or losses, previous charges, payments and current balance due, are listed here. Local and state taxes are also shown.
---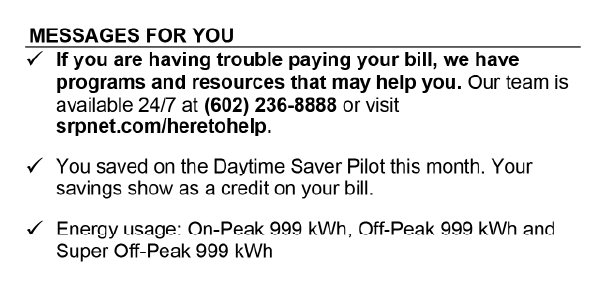 More information about your current bill, your account and SRP options and programs that can benefit you.
---

The amount due and due date in an easy-to-read format. If you mail your payment, you should include your bill stub. You can also use the information on your bill stub to pay your bill in cash at a retail location.
---

This section lists the total energy in kilowatt-hours (kWh) used for the billing period and the current and prior month's meter readings. On-peak, off-peak and super off-peak usage is noted in the "Messages for you" section.
---

A table with the number of billing period days, daily usage (in kWh), daily costs and average daily temperatures for the current, last and same billing month last year.
---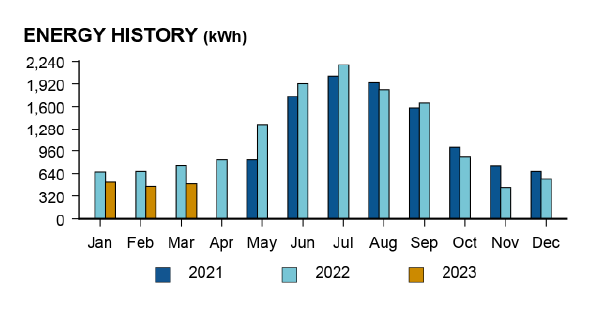 This bar graph shows up to 36 months of past energy usage.
---

Your service address and rate plan. The plan noted is the price plan used to calculate your bill prior to the Daytime Saver Pilot adjustment.
Pricing
Energy is priced per kilowatt-hour (kWh) and your monthly charge is based on the amount of energy used at on-, off- and super off-peak times during your billing cycle. Super off-peak times — 9 a.m. to 3 p.m. every day — offer the lowest prices.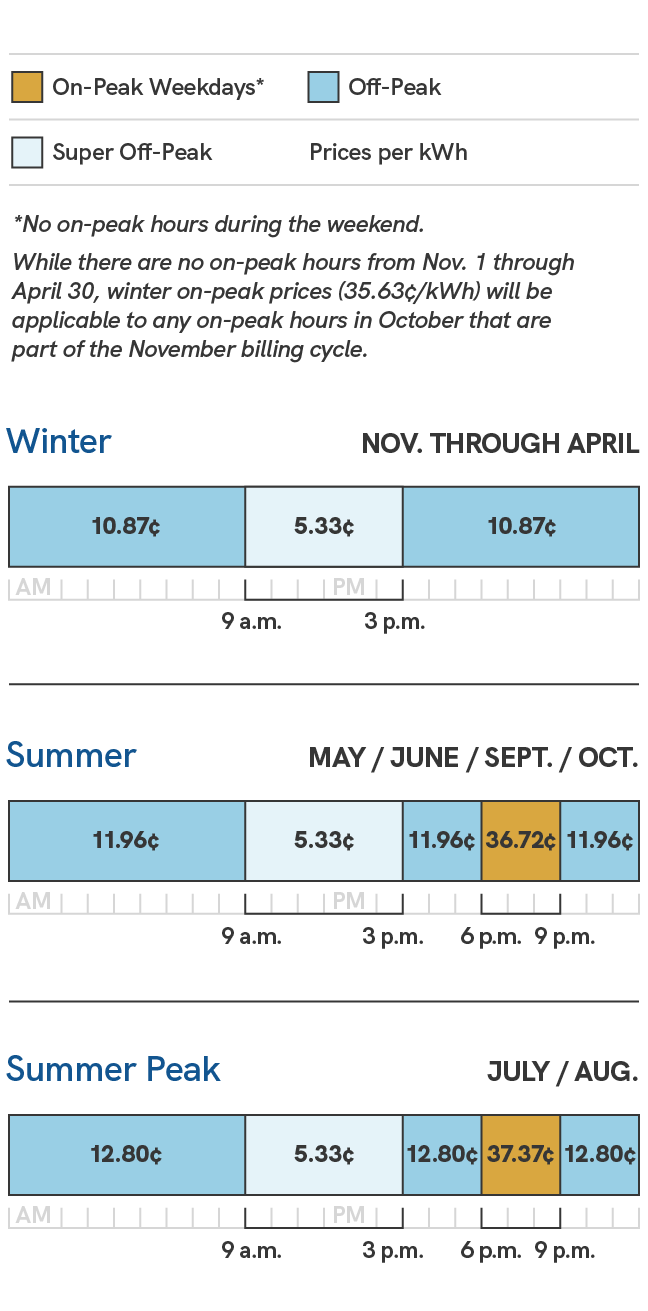 Unfortunately, the pilot is currently full. If you're eligible, we can add your name to our waitlist and reach out if any spots open up. If you would like to be added to waitlist, please reach out to us at (602) 236-2951 (602) 236-2951 .
The pilot begins April 2023 and ends in May 2026 unless terminated earlier. We'll seek the feedback of those on the pilot and will take that into consideration for a future permanent price plan. The pilot will either become a permanent price plan or end. At that time, those on the pilot can either choose a new price plan or will automatically be changed to a default rate.
Yes. We suggest staying on the pilot for 12 months, however, in order to see the full impact. But you can unenroll at any time.
Because solar energy is more abundant during daytime hours when the sun is shining. The more critical hours when we need customers to reduce usage are during the evening.
Yes. If your first three bills on the new pilot aren't lower than what you would have paid on your existing plan, you can contact SRP to get the difference.
Because this is a pilot, you won't be able to see rate-specific information on SRP My Account. If this becomes a permanent price plan, SRP My Account will be updated to reflect all specific data.
No special equipment is required; however, a smart thermostat may be helpful! You can find great deals on them when you shop SRP Marketplace
.
Your feedback is important in shaping this pilot into a potential price plan for the future. We value your opinion!
Need to get in touch?
Please reach out to our customer service team at (602) 236-2951 (602) 236-2951 .