Sustainability at SRP
SRP is working toward a sustainable future for the benefit of our customers and the communities we serve.
Delivering today, shaping tomorrow
At SRP, our focus is on supporting our communities, protecting our environment and minimizing our operational impact to make the power and water we deliver more sustainable. We're taking steps to minimize our environmental impact and we're helping our customers do the same. Our 2035 Sustainability Goals are about making decisions through the eyes of future generations, balancing costs and impacts while providing reliable, sustainable water and power — for today and tomorrow.
Our 2035 goals focus on five key pillars:
Carbon emissions reduction
Water resiliency
Sustainable supply chain management and waste reduction
Customer and grid enablement
Customer and community engagement
Download the 5-Year Action Plan for a detailed review of the specific actions we plan to take toward each goal and progress to date.
Get the report
Learn about progress toward enabling our customers and the grid in the 2022 Customer Programs Report.
Download the report
Reducing our carbon footprint
The energy sector is responsible for about one-third of greenhouse gas (GHG) emissions in the United States. SRP is committed to cutting carbon dioxide (CO2) emissions — the primary greenhouse gas — from power generation, our internal operations and through other initiatives.
Goals:
Reduce the amount of CO2  emitted per megawatt-hour (MWh) by 65% from 2005 levels by 2035 and by 90% by fiscal year 2050. In raw numbers, we are reducing the carbon intensity of our delivered power from 1,576 lbs. of CO2 per MWh in 2005 to 550 lbs. in 2035.

As of April 30, 2021, SRP delivered power to homes and businesses that carried a carbon intensity of 922 lbs. of CO2 per MWh. This intensity includes clean energy products for large customers and opt-in carbon-reducing energy products for residential customers.
Planned decommissioning of coal-fired plants include Hayden in 2027, Craig Unit 1 in 2025 and Unit 2 in 2028, Four Corners in 2031 and Coronado no later than 2032.

Reduce carbon emissions from facilities by 30% on a mass basis1.
Reduce carbon emissions from fleet by 30% on a mass basis1.

Total delivered carbon emissions
SRP's total annual emissions mass for power delivered to retail customers for our fiscal year 2021 was 13.4 million metric tons of CO2 as compared to 18.7 million metric tons from our fiscal year 2005 base year.
How does SRP measure carbon emissions?
When measuring carbon emissions, SRP follows industry best practices and uses a protocol developed by The Climate Registry
. We use a system of measurement known as "carbon intensity." Carbon intensity measures how much carbon dioxide (pounds of CO2) is emitted for every unit of electricity (MWh) that's generated. SRP is committed to cutting carbon emissions from electricity generation, even as demand for energy in the Valley continues to grow.
Product carbon intensities
SRP has multiple products available to our customers. Our carbon intensities vary due to our clean energy products for large customers and opt-in carbon-reducing energy products for residential customers.

Please see the table below for the most recent carbon intensity by product offering.
922
lbs CO2/MWh Retail Total Carbon Intensity
0
lbs CO2/MWh - Earthwise Energy 100%
465
lbs CO2/MWh - Earthwise Energy 50%
697
lbs CO2/MWh - Earthwise Energy 25%
0
lbs CO2/MWh - Customer-Dedicated Renewables (e.g., SEO)
0
lbs CO2/MWh - SRP Community Solar
929
lbs CO2/MWh - Standard Retail
The Retail Total Carbon Intensity represents SRP's 2035 Sustainability Goal generation emissions target and includes the generation claims for all energy delivered.

All of the boxes represent the carbon intensities of SRP's products.

Standard Retail applies to all customers who are not receiving a differentiated product as listed in one of the gray boxes above.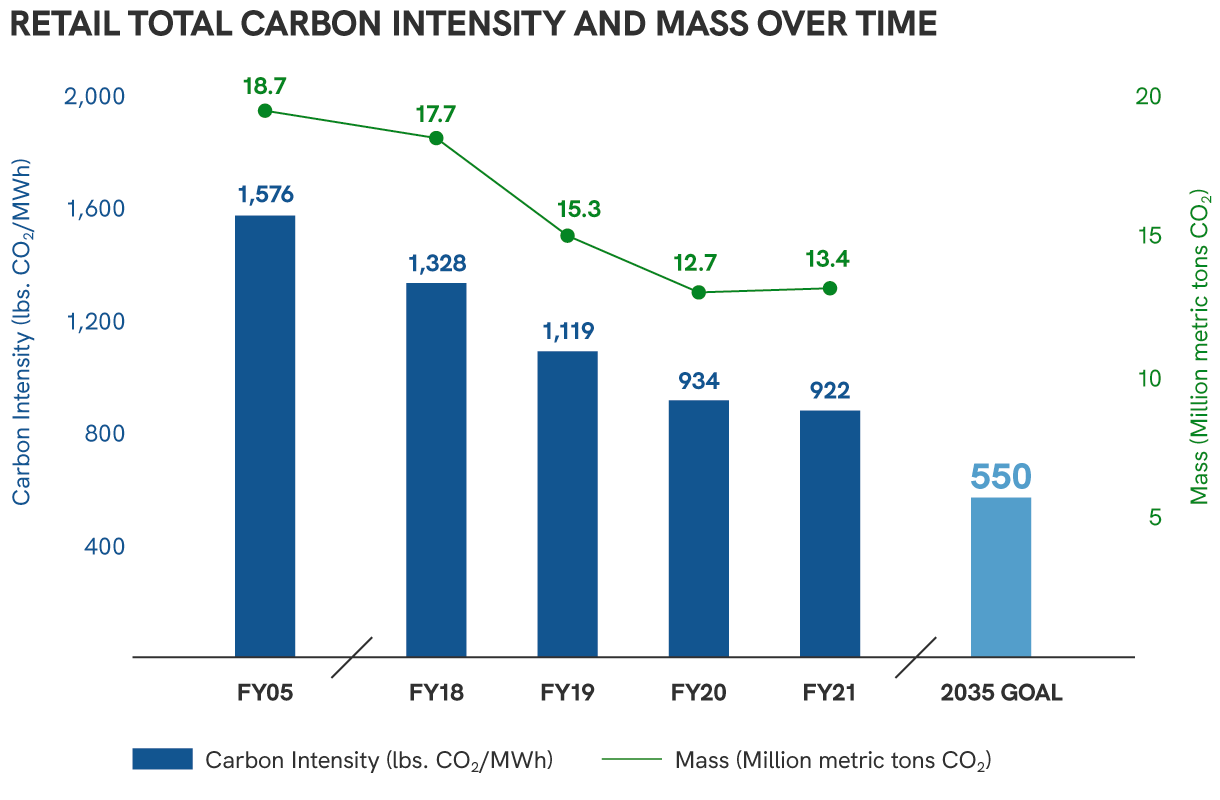 SRP quantifies its own GHG inventory per industry best practices, most notably the World Resources Institute and World Business Council for Sustainable Development, The Greenhouse Gas Protocol, A Corporate Accounting and Reporting Standard, Revised Edition
. Learn more about our environmental policy and programs.

Ensure water resiliency
Through ongoing water management and conservation efforts and by exploring new water resources, SRP will continue to maintain a safe, reliable and resilient water supply.
Goals:
Reduce water use at our facilities by 45% on a mass basis.
Achieve a lost and unaccounted for water rate of less than 5% on a 10-year rolling average.
Eliminate or offset power generation groundwater use in  Active Management Areas.
Achieve a 20% reduction in generation-related water use intensity2 across all water types.
Store 1 million acre-feet of water supplies underground – that's almost 326 billion gallons.
In partnership with Valley cities, support municipal water conservation goal achievements by creating and executing programs to identify 5 billion gallons (approximately 15,300 acre-feet) of potential water conservation by 2035.
Promote a sustainable supply chain, reduce waste
SRP will manage our product choices and purchasing strategies to encourage sustainable best practices. We are recognized for our efforts in recycling, reuse and repurposing operational waste materials to keep them out of landfills.
Goals:
Incorporate sustainability criteria into sourcing decisions for 100% of managed spend3.
Divert 75% of municipal solid waste by 2035 and achieve 100% by fiscal year 2050.
Divert 95% of non-hazardous industrial solid waste sent to our Investment Recovery department.

Enable our customers and the grid
SRP will continue to ensure the reliability, flexibility and security of our grid through innovative applications, optimizing existing resources, and robust monitoring and analytics. This will enable customers to take advantage of advanced technologies and energy solutions.
Goals:
Customer programs:
Grid enablement: Enable the interconnection of all customer-sided resources, including solar photovoltaic (PV) and battery storage, without technical constraints while ensuring current levels of grid integrity and customer satisfaction.
Engage with our communities
SRP is committed to building a sustainable future for all, leading by example and enhancing the communities in which we live and serve. We connect the values of our customers and employees to our business practices each day.
Goals:
Achieve a positive rating for our sustainability efforts from 80% or more of SRP customers.
Engage 100% of employees in efforts that contribute to SRP's sustainability goals.
Increase SRP's leadership role in forest restoration treatments through partnerships, influence, education and support for industry to thin 50,000 acres per year or 500,000 acres total.


1Mass basis = actual tons of CO2 emitted, not a rate basis. Learn more about CO2 and greenhouse gases .
2Water use intensity = gallons of water used to produce a megawatt-hour (unit) of energy.
3Managed spend = money spent on goods and services, excludes fuel for generation.
4Dispatchable load management is the ability to tell EVs when to charge based on a variety of factors. It allows for automated management of EV charging in real time.
5Original equipment manufacturers (OEMs) refers to car manufacturers such as Ford or Honda.
6Includes clean energy products for large customers and opt-in carbon-reducing energy products for residential customers.