Tree trimming and power lines
At SRP, we're committed to providing safe, reliable power. When trees grow too close to power lines, they can cause power outages and pose safety risks. That's when it's time to act.
Why we trim
If you see a tree growing close to a power line, don't try to trim it yourself. Call SRP at (602) 236-8888(602) 236-8888. We're here to help.
SRP trims, or prunes, trees for two reasons: to ensure your safety and to provide reliable service.


Keeping you safe
Never try to trim near power lines. Trees that grow close to power lines can create dangerous shock hazards, which cause injuries and could prove fatal. SRP prunes trees every so often to keep them a safe distance away from power lines. This helps to protect members of our community and our line crews.
Ensuring reliable service
Tree branches that come into contact with power lines can cause power outages and fires. Most often, this happens in windy and stormy weather, usually during a monsoon. Since beginning our vegetation management program, SRP has greatly lowered the number of outages caused by trees.
What is the vegetation management program?
In order to provide reliable power, SRP identifies trees and other vegetation that might pose a risk. SRP strategically removes plants, parts of trees and other vegetation growing close to power lines. This might include a trim or pruning of the tree or total removal of the vegetation.
SRP inspects and trims trees around the Valley on an ongoing basis. If we find a tree on your property that needs to be trimmed, we'll leave a note on your door to let you know.
How we prune trees
SRP hires trained, professional tree workers who are qualified to work safely near live power lines. They know when a tree needs to be trimmed and how to cut the branches in a way that's safe and healthy for the tree.
The workers use a technique called "directional pruning" that is recommended by the International Society of Arboriculture. Instead of cutting off the whole top of the tree, the workers only remove the branches that are growing toward the line. That way, fewer cuts are made and it's easier for the tree to heal.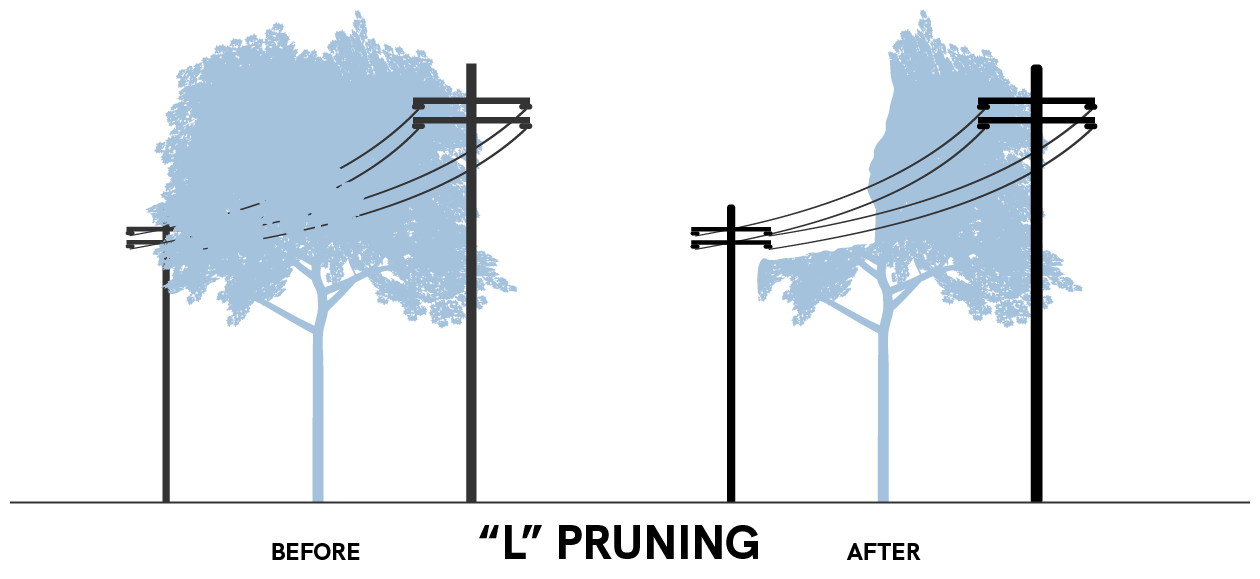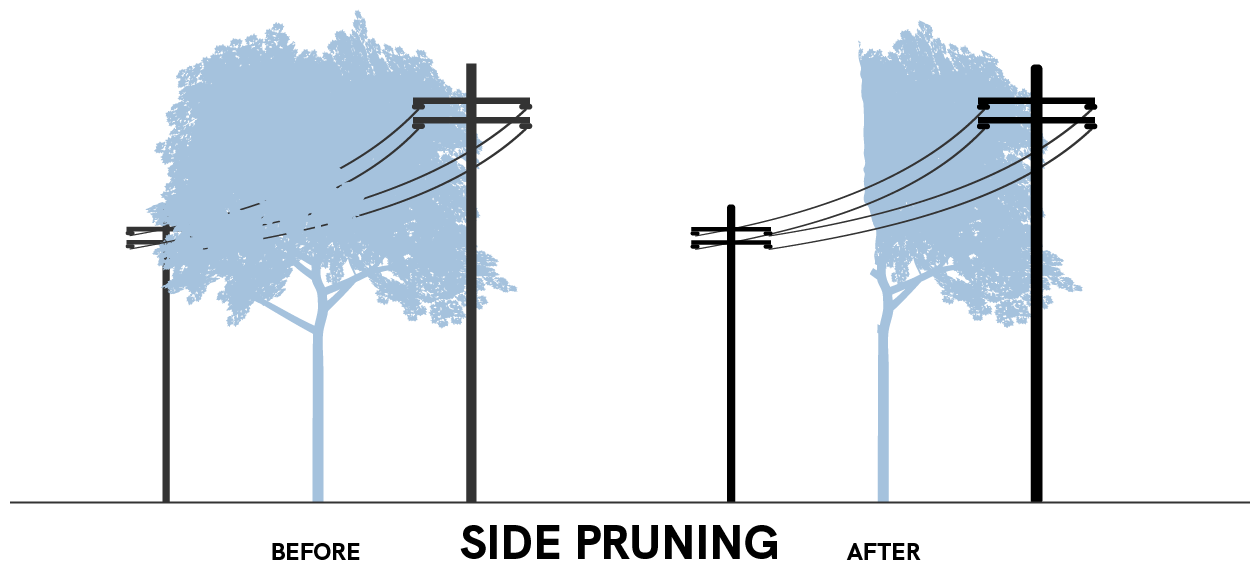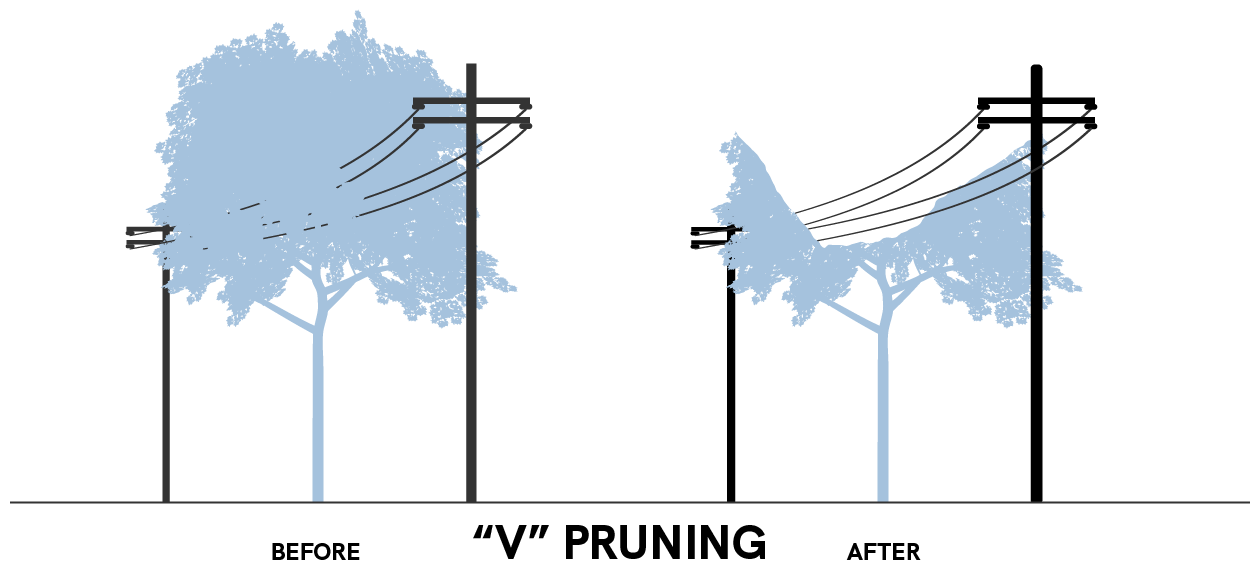 SRP will trim or remove trees and vegetation that are growing into or too close to an overhead power line, if they are between two power poles. Please note that SRP will not clear vegetation around power lines that run from power poles to homes, businesses or streetlights.
Line-clearing work is also done in a way that protects wildlife, including endangered species such as the spotted owl.
The amount of trimming depends on many things, including:
How fast the tree grows

Where the tree is

How the tree is watered
Although our approach may not improve the look of the tree, we believe it's a reasonable and responsible way to keep people safe and prevent power outages.
Currently, SRP crews trim more than 50,000 trees every year. This service is provided at no cost to property owners. (However, once the tree is pruned, the debris belongs to SRP.)
Palm removal
When a palm grows within 10 feet of a power line, it poses safety risks and could cause a power outage during stormy or windy weather.
While SRP can prune most trees to keep growth away from power lines, pruning is not possible for palms that are within 10 feet of a high-voltage line.
Unlike other trees, palms grow straight up from a single growing point at the top of the tree. Pruning too close to the growing point can kill the palm. Once a palm grows within 10 feet of a high-voltage line, it has to be removed.
Tree removal and recycling
If a tree grows too quickly for the occasional trim, SRP offers free near-to-the-ground removal.
Most of the tree materials we trim or remove get recycled. Clippings are chipped and used for mulch. This greatly lowers the amount of waste we send to local landfills and decreases our disposal costs.
Please note: Once the tree is removed, the debris belongs to SRP. The property owner is responsible for stump removal and grinding. SRP may provide growth inhibitor for tree stumps.
Trimming trees on your property
SRP will trim and remove trees or plants that are growing too close to an overhead power line if the line is between two power poles. SRP will not clear vegetation around power lines running from a power pole to a home, business or streetlight.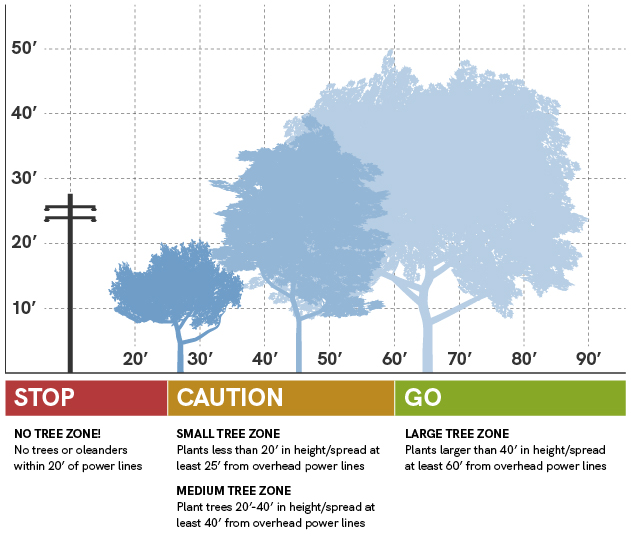 NEVER try to trim around a power line. Instead, hire a tree trimming professional and, when possible, call SRP to have your power temporarily disconnected while the work is being done.
If a tree or plant is growing close to a power line that runs from a power pole to your home or a structure on your property:
Call us at (602) 236-8888(602) 236-8888 at least a day in advance of when the trimming is scheduled. We'll set a time to temporarily disconnect your service.

Be ready to provide a daytime phone number where we can easily reach you.

Arrange to be home. You'll need to be there when we disconnect service.
Keep in mind that tree trimming-related disconnections may need to be rescheduled if an emergency arises or if other previously scheduled service orders need to be completed first.
Once your tree is trimmed, call us back at (602) 236-8888(602) 236-8888 to have your power reconnected. SRP crews cannot wait on-site while a tree is trimmed.
If you have an electrical emergency, call SRP at (602) 236-8811(602) 236-8811. For Spanish, call (602) 236-1100(602) 236-1100.
Planting power line-friendly trees
Will the tree you plant today pose safety risks in 10 or even 50 years? Choosing a power line-friendly tree is as easy as knowing how tall a tree will grow. If you're planting within 25 feet of a power line, we recommend a tree that will grow no taller than 20 feet.
Planting near a power line? We recommend these types of trees:
Cascalote (Caesalpinia cacalaco)

Leather Leaf Acacia (Acacia craspedocarpa)

Mastic (Pistacia lentiscus)

Mexican Bird of Paradise (Caesalpinia mexicana)

Monk's Pepper (Vitex agnus-castus)

Mulga (Acacia aneura)

Purple Leaf Plum (Prunus cerasifera)

Pygmy Date Palm (Phoenix roebelenii)

Texas Mountain Laurel (Sophora secundiflora)

Yellow Oleander (Thevetia peruviana)

Xylosma (Xylosma congestum)
Trees that will eventually grow taller than 20 feet should be planted at least 40 feet away from power lines.
Planting Trees in Our Communities
For years, SRP has partnered with cities throughout the Valley to remove and replace trees that are encroaching on power lines. For every tree that must be removed for safety reasons, two to three new trees are planted along roadways or at nearby parks, schools or neighborhoods.
SRP is proud to help our cities and towns create more urban tree coverage while working to ensure the delivery of safe, reliable power.
By the numbers
FY18, Phoenix
Trees Removed: 400 Trees Planted: 1,400
FY19, Tempe
Trees Removed: 171 Trees Planted: 463
FY20, Mesa
Trees Removed: 208 Trees Planted: 624
FY21, Glendale
Trees Removed: 167 Trees Planted: 504
FY22, Avondale and Peoria
Trees Removed: 193 Trees Planted: 637
FY23, Scottsdale
Trees Removed: 146 Trees Planted: 441
Before You Dig, Call 811
Coming into contact with an underground power line can cause serious injuries — even death. Before you dig on your property, contact Arizona 811
 to find out what's underground. Making the call is the first step for digging safely. And it's the law.
Call 811 before you:
Plant a tree

Install a sprinkler system

Add a garden or new landscaping

Install pavers or a driveway

Build a swimming pool

Plan a home addition
Get in touch