"Contact" customer newsletter
Read the March 2023 customer newsletter.
EV smart charger rebates available
Attention electric vehicle (EV) owners! Charging an EV at home is easier than you might think. If you've been using a Level 1 charger, it might be time to upgrade and take advantage of our $250 rebate on a Level 2 smart charger. That's a discount of up to 38%! Depending on the EV model, Level 2 chargers charge up to nine times faster than Level 1 chargers. Wi-Fi-enabled chargers offer smartphone control to help you track energy usage and schedule charging to avoid peak periods. To purchase a discounted charger, visit srpmarketplace.com
.
Or, if you've recently purchased a charger, you can still apply for the rebate. See a list of eligible chargers.
---
Arizona's forests need your help
Right now, about 75% of Arizona's forests are overgrown, according to the Four Forest Restoration Initiative (4FRI). Thick brush and overcrowded trees can lead to uncontrollable wildfires that can have devastating effects on natural ecosystems — and our water supply.
Together, we can restore our forests. SRP has partnered with other organizations to create the SRP Healthy Forest Initiative™, an effort to prevent catastrophic wildfires and protect the water we drink. We're working to restore 500,000 acres of overgrown forests by 2035.
Support healthier forests for as little as $3 per month. When you support the SRP Healthy Forest Initiative, 100% of your contribution will go toward forest restoration projects. Get started for just $3 a month. SRP will match your contribution dollar for dollar up to $200,000 per year.
Without action, more catastrophic wildfires are almost a certainty. Pledge your support today.
---
Fix a Leak Week
Did you know that an American home can waste, on average, more than 11,000 gallons of water every year due to running toilets, dripping faucets and other household leaks? Nationwide, more than 1 trillion gallons of water leak from U.S. homes each year. That's why WaterSense® reminds Americans to check their plumbing fixtures and irrigation systems each year in March during Fix a Leak Week. As one of the Valley's leading suppliers of water and an EPA WaterSense partner, we promote Fix a Leak Week March 20–26. But remember that you can find and fix leaks inside and outside of your home to save valuable water and money all year long.
Common leaks to look for:
Worn toilet flappers: Put food coloring in your toilet tank, wait 15 minutes and make sure no one uses the toilet. If it seeps into the bowl without flushing, there's a leak. Replace the toilet flapper right away.
Faucets, pipes and hoses: Fixing faucet leaks can save up to 140 gallons a week.
Irrigation systems: Inspect all components of your watering system, from the backflow preventer to the valves, for standing water, soggy ground or eroded soil. If you have a smart irrigation controller, check that the program settings are correct.
Check out additional water-saving tips and free municipality classes.
---
Get an SRP Home Energy Assessment™
With a free* SRP Home Energy Assessment, you'll get personalized energy-saving advice from an experienced Energy Ambassador.

The process is simple. Schedule your assessment and you'll receive a video call or in-person visit from an SRP Energy Ambassador, whichever you choose. Together, you'll talk about your home's appliances and equipment and also discuss how your family uses energy.

The best part? You'll receive up to $250 worth of energy- and water-saving products based on your Energy Ambassador's recommendations.

Get the full details online, or call (602) 236-3065.

*All virtual assessments are free. In-home assessments are free for income-qualified customers or $49 if not eligible for the free assessment.
---
Did you know?
Since 1998, the first full week of March has been promoted as National Consumer Protection Week (NCPW), with a focus on protecting Americans from scams, identity theft and other unfair and fraudulent business practices. The week of March 5–11 marks the 25th annual NCPW, and SRP is proud to join forces with Utilities Against Scams.
Keep these tips in mind so you can easily spot a scam. Scammers will:
Pretend to be from SRP. It may even say it on the caller ID.
Threaten power disconnection. They'll threaten to turn off your power unless a payment is made, usually in an hour.
Demand payment. They'll ask for payment with prepaid cards such as MoneyPak and Vanilla, with cryptocurrency or through a banking app such as Zelle.
SRP will never demand immediate payment, threaten same-day disconnection or accept prepaid cards or cryptocurrency as payment, whether over the phone or in person. Learn more tips to keep yourself safe.
---
Maricopa County Fair discount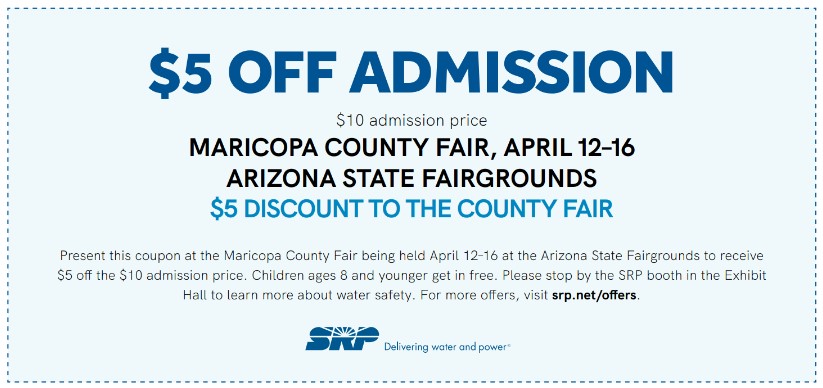 Quarterly M-Power Contact newsletter
Download the latest M-Power Contact newsletter
to stay informed on SRP news.