SRP Electric Vehicle Price Plan™
The EV Price Plan offers the most opportunity for EV drivers to save. It is a time-of-use price plan that provides customers with an opportunity to save money by charging during super off-peak times (between 11 p.m. and 5 a.m.).
How it works
With the EV Price Plan, you can save money when you limit how much energy you use during on-peak hours. In fact, customers on the EV Price Plan save 8.6% annually on average compared to customers on the Basic Price Plan.*
You'll enjoy significantly lower pricing during off-peak hours, including weekends and six observed holidays
.
Charge your car during super off-peak hours, from 11 p.m. to 5 a.m., for even greater savings.
Expected daily cost of charging an electric vehicle**
| | | | |
| --- | --- | --- | --- |
| EV Price Plan | Time-of-Day | EZ-3 | Basic |
| $0.70 | $0.79 | $0.91 | $1.21 |
It's a good choice for you if:
You own or lease an electric vehicle. (It must be a highway plug-in hybrid electric vehicle or battery electric vehicle.)
You're able to charge your vehicle at home between 11 p.m. and 5 a.m.
You're able to use less energy at home during on-peak hours. (During these hours, energy is more expensive to produce.)
Pricing
Energy is priced per kilowatt-hour (kWh) and the price varies based on whether electricity is used during on- or off-peak hours. Your monthly energy charge reflects how much energy you've used during your billing cycle and at what time.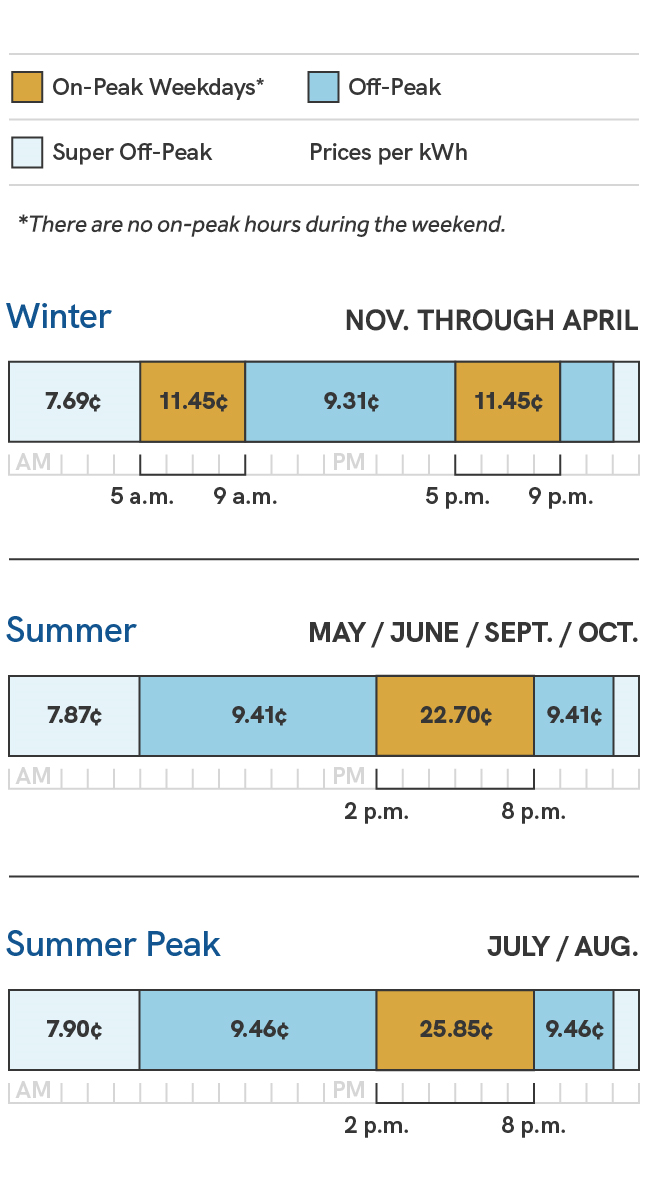 How is this plan different from other time-of-day plans like SRP EZ-3 Price Plan™?
The biggest difference is that the EV Price Plan includes super off-peak hours, which are windows of time when EV owners can save by charging their vehicle overnight.
Try it risk-free for 90 days
If your first three bills on the EV Price Plan aren't lower than what you would have paid on your previous price plan, contact us. We'll credit you the difference and switch you back.
Ready to change your price plan?
Think the EV Price Plan would be a good fit for your household and lifestyle? Visit SRP My Account™ or call (602) 236-8888(602) 236-8888 to make the switch. We're here to help 24/7.
*Based on SRP analysis of one year of customer usage through April 2020.
**Results may vary. Assumptions: Level 1 charging average of 10.5 kilowatt-hours (kWh) per day for an average of 30 miles driven. Vehicle charging occurs between the hours of 10 p.m. and 5 a.m. Prices reflective of the summer season (May–October). Calculations do not include costs associated with daily house loads, monthly service charge and taxes. Price comparison for Basic (E-23) is based on the typical customer use profile.