SRP M-Power® prepaid price plan
SRP M-Power is a pay-as-you-go solution for budget-minded customers, allowing you to choose when, where and how often to pay for energy – before you use it.
How it works
SRP M-Power customers keep it simple – no monthly energy bills, no surprises. Pay in advance for just a few days, or a few months. SRP starts by installing a special meter on your home. Using the free SRP M-Power® app allows you to track how much energy you've used and how much you have left. Customers can purchase energy in a variety of ways, including:
*A $2 processing fee applies.
Manage your account using the SRP M-Power mobile app
With the SRP M-Power app, you can:
Add power to your meter instantly
See how much power you have remaining
Enable notifications on your phone to get alerts when credit is low
View your power use and purchase history, helping you plan and budget
Find a nearby payment location
And more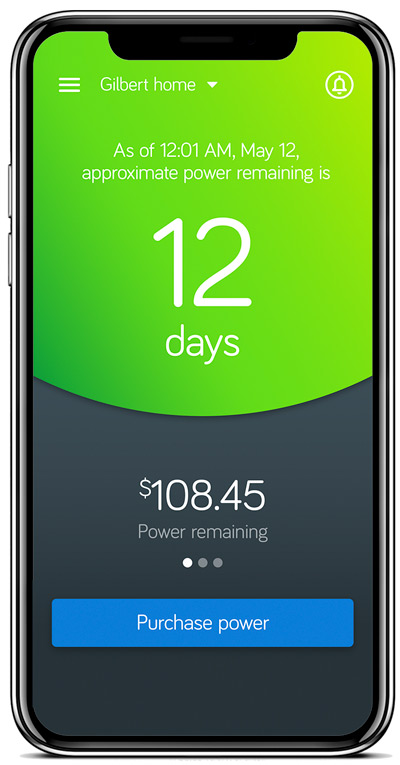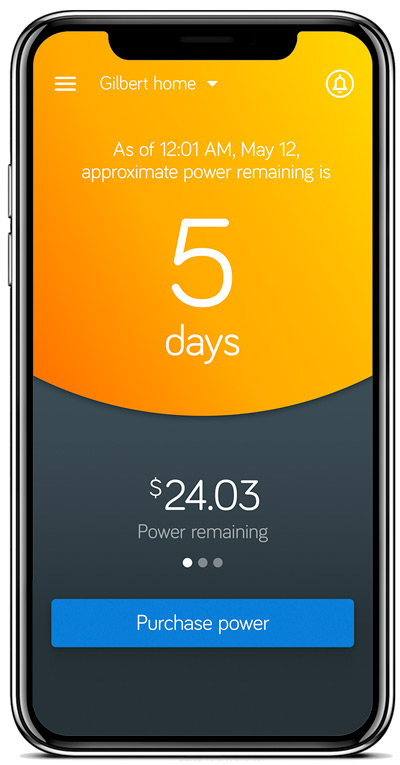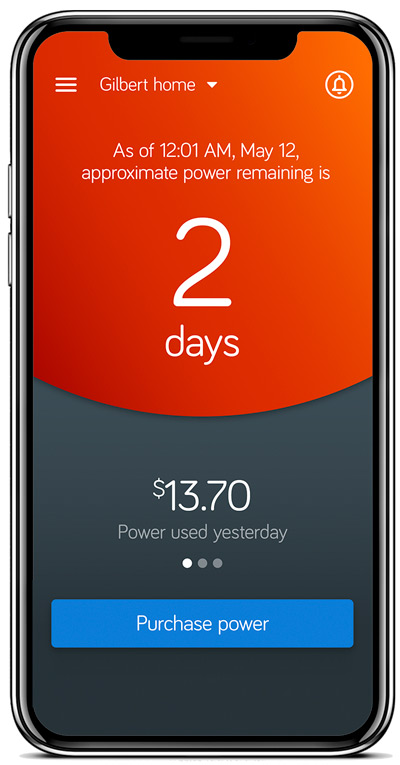 9.76¢ per kWh
Winter: November through April
12.90¢ per kWh
Summer: May, June, September, October
13.61¢ per kWh
Summer Peak: July, August
Typical startup costs
See how you can get started as an SRP M-Power customer. No credit check needed. No disconnect or reconnect fees.
$102.50 – Refundable deposit
$30 – One-time service establishment fee (tax not included)
$30 – Initial advance to your meter; credit is repaid over time, as you make purchases
Only if you have a display box – $11.50 – Non-refundable fee (one-time fee, tax not included)
Ready to change your price plan?
Think SRP M-Power would be a good fit for your household and lifestyle? Call (602) 236-8888(602) 236-8888. We're here to help 24/7.
The SRP M-Power app shows you the cost of the energy you are using in dollars and cents. You can view your costs for the last 30 days. The SRP M-Power app will display the days and credit remaining. You can also view your usage information at myaccount.srpnet.com. You may be able to make your credit last longer by finding ways to conserve energy.
The kilowatt-hour (kWh) or unit cost of energy is different in winter and summer on every price plan. The price you pay reflects this seasonal change in cost according to your price plan.
During winter months, customer usage and the cost to generate electricity is lower resulting in lower pricing. In summer months, demand for electricity is much higher as is the associated cost for SRP to meet this demand. This results in a higher cost for electricity in the summer.
Billing months

A paydown balance is an amount owed to SRP. A percentage of each purchase made while on SRP M-Power is applied to this balance until it is paid in full. If the total amount owed to SRP is:
Less than $500, 35% of future purchases will go toward the paydown balance.
Between $500 and $1,000, 50% of future purchases will go toward the paydown balance.
Over $1,000, 70% of future purchases will go toward the paydown balance unless you receive our Economy Price Plan (EPP) monthly discount. For EPP customers, the paydown percentage will be capped at 50%.
If you have a balance of over $500 that falls below $500 as you make payments, your paydown percentage will drop to 35%. If you would like to lower your paydown balance faster,  you can make payments by giving us a call. Lowering your balance can allow more of your purchases to go toward your meter.
What does the M-Power display box do? The M-Power display box makes it easy to see how much credit is remaining on your meter and it will alert you when your credit is getting low. The M-Power box tracks energy costs by the hour, day and month so you can see how much you're spending. You can also compare the cost for the current and previous month, which could help you use less energy and save money.
The credit remaining displayed in My Account or the M-Power mobile app will update hourly and each time you make a purchase. To see your credit remaining in real-time, check your M-Power box.
The SRP M-Power card you received with your starter kit will be used to connect your SRP M-Power box to your meter. This allows your M-Power box to display real-time data from your meter. Your SRP M-Power card can also be used to look up your account data at any  in-person payment location.
The $102.50 deposit you paid, including any unpaid interest earned, will be applied to your final bill. If applying the deposit results in a credit balance on your account, a refund check for the balance will be sent to you at the mailing address you provided when service is turned off.
Interest on your deposit is earned at the average certificate of deposit (CD) rate paid by local financial institutions. SRP will credit the interest to your account in January when the deposit has been held for at least six consecutive months. The interest rate is reviewed annually and adjusted as needed. View the SRP residential credit policy.
SRP will remove the credit from your meter at the time of your turnoff. Any credit or accumulated debt will be adjusted on your final bill.
The most convenient way to return your in-home display box is by U.S. mail. Simply place the display in its original shipping box and use the postage-paid label already attached to the bottom to send it back to SRP. If you don't have the original box anymore, call us at (602) 236-8888(602) 236-8888 and we will mail you a postage-paid envelope.
Your SRP M-Power in-home display can also be returned to any return station (listed below). Using a return station is easy:
Place the SRP M-Power box in the envelope provided at the station.
Seal the envelope.
Remove the confirmation tag from the envelope to keep for your records.
Drop the envelope in the station.
The SRP M-Power box will be processed, and any account adjustments will be completed within three to five business days.
In-home display return stations can be found at these locations:
3160 S. Alma School Road, Mesa, AZ 85210 (Alma School Road south of Guadalupe Road)
7050 E. University Drive, Mesa, AZ 85207 (University east of Power Road)
221 N. 79th Ave., Tolleson, AZ 85353 (79th Avenue south of Van Buren)
1500 N. Mill Ave., Tempe, AZ 85288 (southeast of Van Buren across from the Phoenix Zoo)
3735 E. Combs Road, Queen Creek, AZ 85140 (southeast side of Combs and Schnepf roads)