Sediment issue resolution at Horseshoe Dam and Reservoir
Solving water storage and climate challenges is critical to Arizona's future. SRP is leading the way.
The challenge
The Verde River watershed covers nearly 7,000 square miles across central and northern Arizona. As snow melts and rain falls, sediment and debris make their way into the Verde River and are carried downstream to Horseshoe Dam and Reservoir.
Horseshoe Dam and Reservoir is the first major water storage facility on the Verde River. As the river slows and pools, large amounts of the sediment settle in the reservoir. SRP estimates that settled sediment directly lowers the reservoir's water storage capacity by 1,000 acre-feet per year on average. A sediment survey conducted in 2012 at Horseshoe Reservoir found that about 45,749 acre-feet of capacity had been lost since the dam was constructed in the 1940s. In our arid desert environment, it's critical that we maintain the storage capacity of our water reservoirs — the water we're able to capture during wet periods can be used later during dry periods.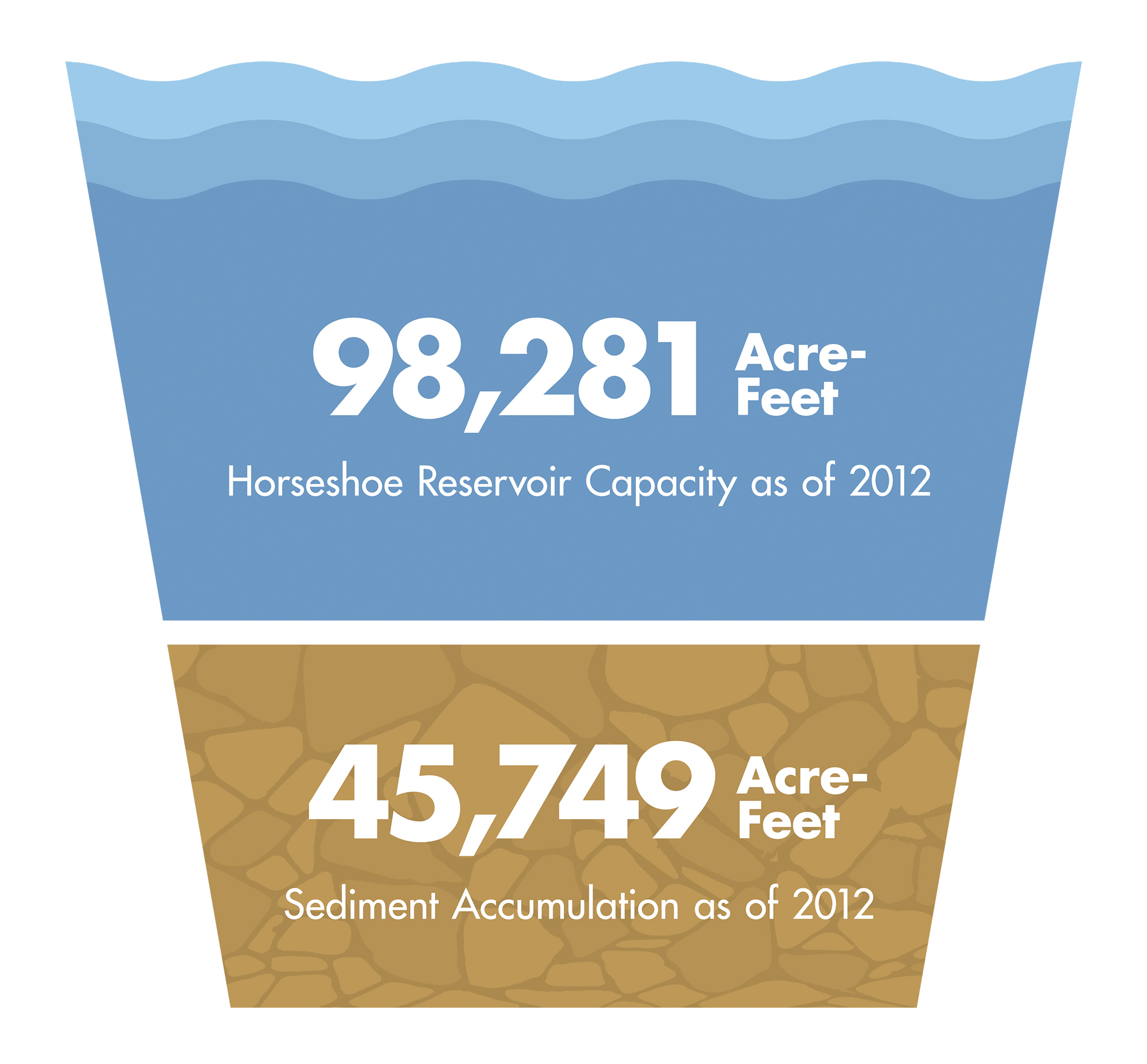 What's a watershed?
A watershed is an area of land where rainwater and melted snow all drain to the same place. There are three watersheds that feed the Salt and Verde rivers, which flow into SRP-managed reservoirs.
SRP's reservoir system has enabled safe and reliable water supplies for residents, businesses and farms in the Valley of the Sun for more than a century — even in times of drought. With climate change expected to bring more severe dry and wet periods to Arizona, water storage capacity along the Verde River is key to making sure SRP has the resources to reliably deliver water for the next century.
The proposed solution
SRP is working with the Bureau of Reclamation and other partners to find cost-effective solutions that would restore lost water storage capacity at Horseshoe Reservoir while also adding additional capacity for future use.
One of the most promising options would involve raising the height of Bartlett Dam between 62 and 97 feet, similar to changes made to Roosevelt Dam in the 1990s. The enlarged Bartlett Reservoir would increase the total water storage capacity on the Verde River. In fact, the increased water yield (60,000–115,000 acre-feet) would be enough water to serve an additional 180,000–345,000 households in the Valley every year. This option would provide easier access to water in central Arizona and reduce our reliance on nonrenewable water supplies like groundwater.


If this change were made to Bartlett Dam, SRP would find new ways to use Horseshoe Reservoir. The reservoir could help us manage flooding and sediment inflow, create a protective barrier for native and endangered fish, and create more natural habitat for wildlife.
The options we're exploring would increase the total water storage capacity on the Verde River between 145,000 and 352,000 acre-feet. These changes would not only solve the sediment issue but would also help address the impacts of climate change on the Verde River system and central Arizona by improving access to renewable surface water supplies.
Next steps
Over the next several years, a feasibility study of these options, including an environmental review, is expected to take place. The findings of the study will be used to make recommendations to the U.S. Congress about the best approach.
Finding viable and cost-effective solutions to the water capacity and climate challenges we face is critical to Arizona's future. SRP's proposed solution would ensure that enough Verde River water is stored and can be responsibly managed to meet the needs of people in the Valley for generations to come. Just as important, these projects would help ensure a reliable mix of water supplies for those outside of SRP's water service area.