Partnering with tribal communities
Arizona's tribal communities built a foundation that paved the way for SRP's beginning and growth. Our roots are woven together, and we are proud to partner with tribal communities so they can thrive for generations to come.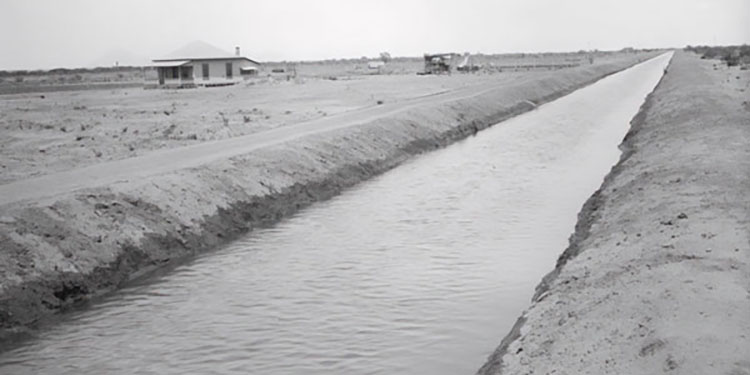 Ancient roots of Arizona's canal system
Our history is tied to the Indigenous peoples of Arizona. From A.D. 600 to 1450, the Hohokam constructed the state's first canal systems in the Salt River Valley to irrigate their crops. What they built laid the groundwork for the Valley's modern-day canal system.
Collaborating with Arizona's tribal communities
SRP is committed to meeting the water and power needs of our state's tribal communities and will continue to collaborate with them to do so.
$250K
SRP's approximate annual investment in support of tribal communities in the form of grants and sponsorships to support education and community enrichment programs.
800+
Homes have been electrified through Light Up Navajo, a cooperative initiative to provide power to Navajo Nation homes without electricity. While these homes are outside our service area, SRP remains a committed partner in this effort.
55
Megawatts of clean energy provided to Navajo Nation homes through the Kayenta Solar generation facility, a partnership between SRP and the Navajo Tribal Utility Authority (NTUA).
Resources to support future generations
SRP is proud to provide power and water to several tribal communities across the state. In addition to those services, we offer a wide variety of support to assist these often underserved communities.
Community Grants
Tribal communities are eligible to apply for SRP grants to help develop new strategies and programs that drive forward sustainable, successful futures.
Utility Grant Funding Program
We're providing funding assistance to communities impacted by the current or planned exit from coal-fired generating stations by APS, SRP and TEP.
Learn more
Grants for Native American Teachers
SRP provides support for teachers through education grants. See what opportunities are available and how to apply.
Learn more
Community Giving
SRP has been a proud member of the community for more than 120 years, and we show that pride by providing support for local nonprofits.
SRP donates over $4.7 million every year to support basic needs, education and community enrichment programs to help our future workforce grow.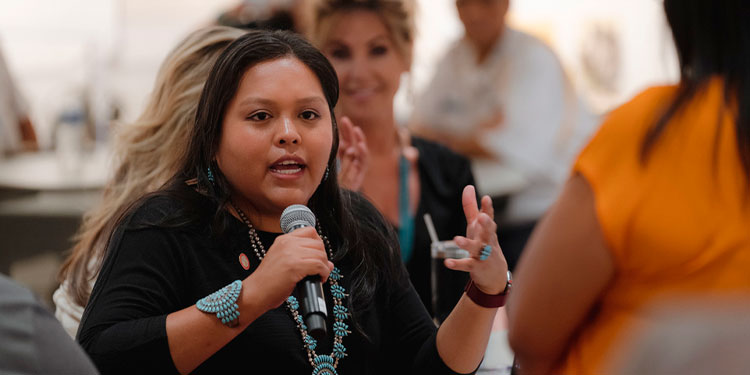 Creating a culturally diverse workforce
SRP strives to cultivate a workforce that reflects the communities in which we live and work. This diversity provides unique perspectives and solutions that better serve our customers.
Here are more steps we're taking to create an organization where the voices of tribal communities are heard.
Empowering Native American Employees at SRP
SRP is home to the Native Americans Together in Vision and Empowerment (N.A.T.I.V.E.) Employee Resource Group (ERG), an employee-led voluntary group made up of Native and non-Native allies formed in 2019.
The ERG offers a place for employees to find connection and support. Members also organize events and activities that bring cultural awareness to SRP employees of all backgrounds working to celebrate diversity across the organization.
Supplier Diversity
SRP is committed to working with a diverse coalition of business partners. By engaging with Native American-, woman-, minority- and veteran-owned businesses, as well as LGBTQ and small local businesses, we're working to foster economic empowerment and provide a sustainable supply chain marketplace for goods and services.
Light Up Navajo provides power to Navajo Nation
Beginning in 2019, crews from SRP, along with those from 24 other utilities, participated in a project called "Light Up Navajo," which is led by the American Public Power Association (APPA)
and Navajo Tribal Utility Authority (NTUA)
. SRP donated employee time, line trucks, digging equipment and a mechanic service truck toward the project.
The effort continues to bring power to some of the 14,000 homes beyond SRP's service territory on the Navajo Nation that do not have electricity.
"I will never forget seeing the faces of the people who received power for the first time. It is an honor to help improve the quality of life for our neighbors to the north."
– Bret Marchese, SRP Director of Customer Construction Services
Partnerships with tribal communities
SRP has long-standing relationships with many Native tribes, and we work together to protect our watershed, bring energy to the region and develop new conservation strategies.