Fishing in SRP-managed canals
Of all the activities that can be enjoyed along our canals, fishing is perhaps the most timeless hobby of all. Casual fishers and seasoned anglers alike visit the SRP canals for fun, relaxation and community — and with miles of waterways snaking through the Valley, you don't have to look too far.
Arizona fishing permits
While fishing is allowed along the canals, a valid fishing license is required by the state of Arizona. According to Arizona Game and Fish
 , "all resident and non-resident anglers 10 and older require a valid permit in any publicly accessible waters." And yes, that includes ours. Apply for a permit online today
 .
Please note that urban fishing licenses are not valid permits for fishing in SRP canals.
Types of fish in Arizona canals
Most commonly, you'll catch carp and white amur in our waterways. Per Arizona fishing regulations, all white amur must be immediately released back into the water unharmed. These weed-eating fish are part of a program at SRP to help keep the canals clean and clear without using chemicals or machinery.
Carp vs. white amur: How to tell them apart
All white amur must be released if caught.
The common carp have long, spiny fins along their backs and little whiskers called "barbels" near their mouths.

White amur have similar coloring to carp on their backs but feature several notable differences, including a white underbelly, lack of barbels on their mouths and no boney spines in their dorsal fin. They can grow to be over 3 feet long!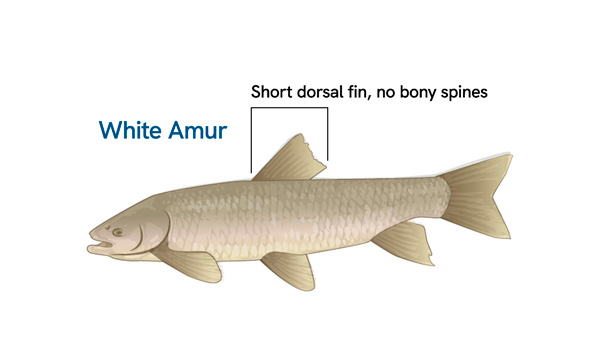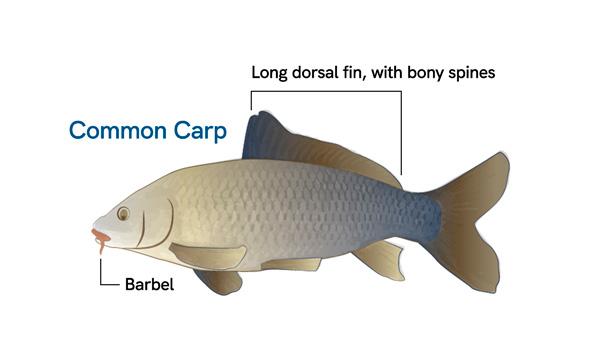 Fishing best practices
While every angler may have personal superstitions about how to hook the big one, one thing is certain: We can all have a better time along the canals if we're respectful of others. Please clean up all hooks, bait and lines so that runners and cyclists don't trip or get tangled up, and please be considerate of other anglers in the area.
The White Amur Program
Maintaining a 131-mile canal system comes with its challenges. Aquatic weeds pose a constant challenge and left unchecked, an overgrowth of weeds would impede water flow and displace precious space in the canal needed for water transport.

In the past, SRP controlled weed growth with costly and labor-intensive methods, such as scraping canal beds with heavy chains to uproot plants, scooping out vegetation with backhoes or applying herbicides.
The white amur, a type of carp native to China, was selected for its ability to control moss and weeds at a wider range of temperatures than most other fish.
Determined to find a more progressive, environmentally sound solution, SRP launched an innovative experiment in the mid 1980s – one that involved the use of white amur fish to clear the canals of weeds. A 7-pound white amur can eat nearly three-quarters of its weight in weeds every day.

Special stocking permits from the Arizona Game and Fish Department require the white amur to be certified as sterile before it can be imported. Grates are in place to keep the fish in the canal. To keep stock up, SRP replenishes the fish population by trucking in several thousand white amur per year.


Program evolution
The White Amur Fish Program has been a success and saves SRP hundreds of thousands of dollars in annual operating costs while also promoting innovative and environmentally friendly water management practices.

The first batch of fish, about 1,800 fish weighing 1 pound each, was released in portions of the SRP canal system in early 1989. The last 23-mile section was stocked with the fish in 2005. Since then, machine cleaning of weeds in the canals is rarely needed.
Help protect the SRP White Amur Program. Report the removal of white amur from the canals by calling (800) 352-0700. It is illegal to remove these fish.
Maintenance, care and protection
Because of its significant weed-eating value, the white amur receives special treatment. Each winter when SRP drains portions of its canals for maintenance, the white amur are carefully herded and relocated to "wet" canal areas.