Installing solar panels on your home
If you're considering rooftop solar panels, SRP can help. Learn what's involved, find an SRP preferred installer, explore our solar price plans and more.
Investing in renewable solar energy
Rooftop solar panels can increase your property value and help you offset your energy use with clean, renewable power.
Beware of scams. If a company claims to partner with SRP, make sure they're on our approved list by calling (602) 889-2657(602) 889-2657. We're available from 7 a.m. to 6 p.m., Monday-Friday. You can also email srpinfo@elaz.org.
While rooftop solar benefits individual homes and businesses, SRP is committed to investing in solar energy on a large scale. Utility-scale solar energy is produced in a commercial facility, like a solar farm, and it can be shared with customers across the Valley – even those who don't have solar panels. Learn more.
Solar installation costs
Here's a look at the costs involved:
Materials: Cost of panels, racking and mounting, inverter, etc.
Permit: Ensures that installation meets electrical codes
Design: Placing panels for maximum access to sunlight
Labor: A qualified installer to ensure efficiency and safety
Your SRP bill: Pay for access to grid energy (when you use more than you've generated)
Maintenance: Checkup and repairs to ensure peak performance
Learn more about how solar and battery storage works.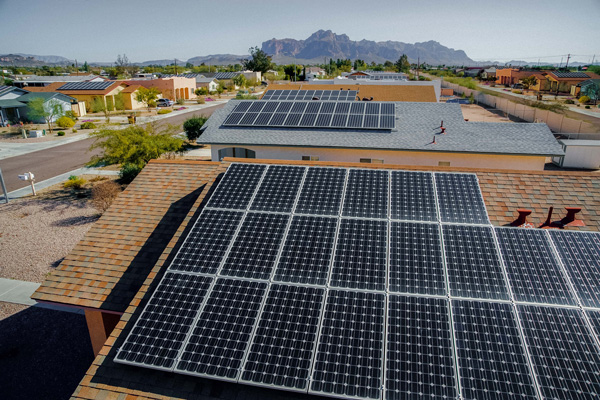 Are you considering installing a rooftop solar system for your home? Try out SRP's solar calculator in SRP My Account™ to help estimate the costs.
Log in to My Account.
SRP solar price plans and monthly costs
Even with solar panels installed on your home, you'll still have an SRP bill. SRP offers several price plans to help rooftop solar customers save. Explore our solar price plans.

On any solar price plan, you'll pay a monthly service charge that includes the cost of energy supplied by SRP. At certain times of the day, it's not unusual for your energy use to exceed what your panels have generated. When that happens, your house will pull power from SRP's electric grid, and you'll be charged for that energy.

Your monthly costs can be affected by many factors, such as the placement of your panels and the season of the year.
Understanding energy and demand
SRP solar rebates
While SRP no longer offers incentives for solar installations now that the solar market has matured, we offer other rebates to help you save money — and the environment.
Demand Management Systems Rebate
Get $250 from SRP with the purchase and installation of a new rooftop Demand Management System installed by an SRP Preferred Solar Installer. These systems help you avoid running major appliances at the same time during on-peak hours.
Learn more
Solar tax credits
A variety of state and federal incentives are available to help Arizonans invest in solar technologies. The current federal residential solar energy credit offers:
30% tax credit for systems installed between 2022–2032
26% tax credit for systems installed in 2033 and 22% for systems installed in 2034 (Energy.gov)
For other rebates, search the Database of State Incentives for Renewables & Efficiency®
. To see if you qualify for these credits, consult a tax professional.
Preferred solar installers
While do-it-yourself solar projects are possible, we don't recommend it. Working with an SRP preferred solar installer can save you time and money by ensuring a safe and efficient installation.
SRP's preferred installers are licensed, bonded, insured and trained to work with SRP's solar plans. They can design your system, provide financing options, ensure a safe connection to the grid and train you on how to operate and troubleshoot your new solar panels.
Gain peace of mind
All of our preferred solar installers:
Contact SRP at (602) 889-2657(602) 889-2657 today for a list of three verified installers or to learn if the company you've chosen to work with is on our preferred list.
5 steps for solar readiness
Think you're ready for solar? Here are five steps you can take now to help you be sure.
Review your bill. Higher electric bills — especially those with high usage during peak hours — benefit the most from switching.
Evaluate your property. Do you have a south-facing roof that's in good condition? Are there buildings or trees creating shade during the day?
See if you qualify for rebates and tax credits. These benefits aren't available for all residents. Contact a tax professional to see if you qualify.
Review the details. Download the Program Requirements and Residential Distributed Energy Resource Process Flow to see how to safely connect your system to SRP's electric grid.
Get quotes from three preferred installers. All installers can help you select the best system for your home, but prices and warranties can vary. Contact SRP for a list of contractors who are in good standing with both the Better Business Bureau and the Arizona Registrar of Contractors.